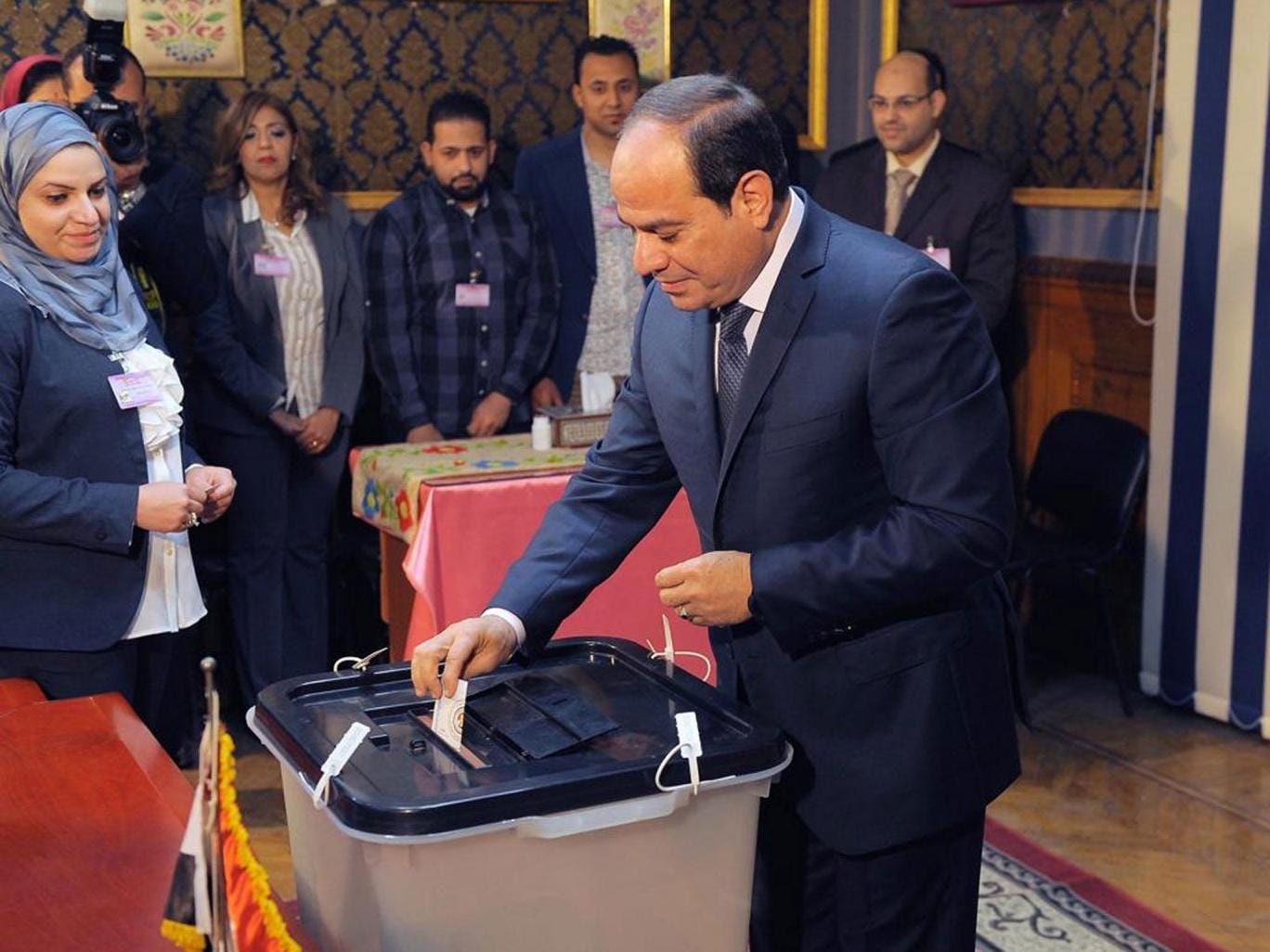 Egypt's three day presidential elections concluded on Wednesday night with preliminary results showing a widely predicted landslide for the current president amidst a poor turnout. Polls were kept open an extra hour after the National Electoral Committee (NEC) released a message urging any last minute voters to cast their ballots.
State-owned newspaper Akhbar El-Youm reported on Thursday that Sisi is expected to have gained around 21.5 million votes, out of 60 million potential votes. His only rival, Moussa Mostafa Moussa, is thought to have gained just 721,000 votes, with most preliminary estimates suggesting a much higher number of spoiled ballots. That represents a turnout of a little over a third – well below the 47.5 per cent figure given for the 2014 election.
Although the official result isn't scheduled to be released until Monday, the fact Sisi would retain his position by orders of magnitude has been all but certain for months.
Moussa himself was a largely unknown politician before his last minute decision to run in January. A self-confessed Sisi supporter himself, he told The Guardian this month that he "decided only to enter the campaign when we found everyone was thrown out," a reference to Sisi's conspicuously absent political opponents.
Despite the democratic rhetoric in the run-up to polling, "Nobody watching this thinks it's serious," said Timothy Kaldas, a non-resident fellow at the Tahrir Institute for Middle East Policy (TIMEP). He told The Independent: "There's no effort to make this look real."
Moussa barely ran any sort of campaign for the elections, with many Egyptians going in to vote having never seen his face. In contrast, pro-Sisi election banners were everywhere to be seen in Egypt, many of which were paid for out-of-pocket by local business owners encouraged to print their own portrait next to that of the president's by way of endorsement. Although ostensibly voluntary, The Independent has been told that at least one local coffee shop owner was threatened by police into printing up a banner.
With widespread calls to boycott the election, with the hashtag "don't go out" trending for much of this week on Twitter, NEC officials pulled out all the stops to ensure a healthy turnout. For the past three days, cars have patrolled Cairo blaring the national anthem and patriotic pop songs, in an apparent bid to appeal to voters' sense of civic duty. There have also been threats made by the authorities that those who fail to vote may be eligible to pay a LE 500 fine (around £20).
Bribery has also been reported, particularly in working class areas where voters have allegedly being offered food rations or cash ranging between LE 30 (£1.20) and LE 100 (£4) to cast their vote. Amro Ali, a sociologist based in Alexandria, said that in the current economic climate, even seemingly small sums like these can be an effective incentive to increase turnout "given the destitution and how desperate people are".
While bribes for voting were a common feature under former president Hosni Mubarak, "This time it just seems so blatant," Ali told The Independent. "They're not even discreet about it." Videos being shared on social media show trucks driving through poor areas with loudspeakers though which they promise to pay anyone who turns up to vote.
Much of the shortfall in voters appears to be due to low youth turnout, particularly among those who took part in the 2011 protests and express reluctance to take part now. "It's a circus, and we all know the outcome," said 26-year-old Ahmed Khaled, explaining why he chose not to vote. "It's a waste of time and this show is just pathetic."
Culled from Independent