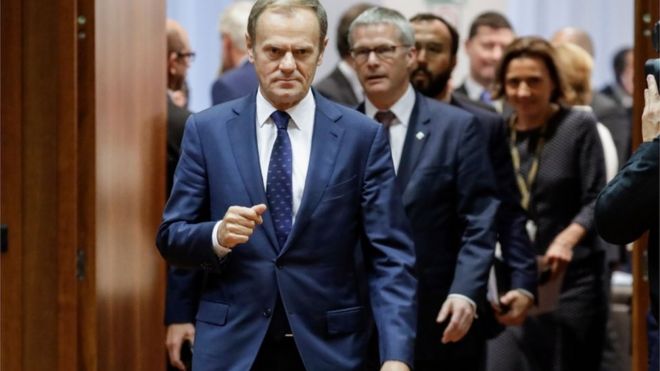 Reports of deadlock over Brexit negotiations may have been exaggerated, European Council President Donald Tusk has said after a Brussels summit.
Progress was "not sufficient" to begin trade talks with the UK now but that "doesn't mean there is no progress at all", he said.
EU leaders will discuss the issue internally, paving the way for talks with the UK, possibly in December.
Theresa May said there was "some way to go" but she was "optimistic".
Speaking at the end of a two-day summit, Mr Tusk told reporters: "My impression is that the reports of the deadlock between the EU and the UK have been exaggerated."
The EU's chief Brexit negotiator, Michel Barnier, described the talks as deadlocked earlier this month.
Mr Tusk said he was not at odds with Mr Barnier, but his own role was to be a "positive motivator for the next five or six weeks".
He said he felt there was "goodwill" on both sides "and this is why I, maybe, in my rhetoric, I'm, maybe, a little bit more optimistic than Michel Barnier, but we are also in a different role".
Divorce bill
The so-called divorce bill remains a major sticking point in talks with the EU.
Theresa May declined to say in a press conference after the summit what the UK would be prepared to pay, saying the "final settlement" would come as part of a "final agreement" with the EU.
The UK prime minister did not name any figures but refused to deny that she had told other EU leaders the UK could pay many more billions of pounds than the £20bn she had indicated in her Florence speech last month.
"I have said that … we will honour the commitments that we have made during our membership," she said. But those commitments were being analysed "line by line" she said, adding: "British taxpayer wouldn't expect its government to do anything else."
By BBC Political Editor Laura Kuenssberg
It is not what the original UK government plan was – that this autumn the EU would get on with working out the big picture.
But it means that Theresa May does not go home empty-handed.
At her press conference this morning she was able to hail progress.
But by agreeing to talk about talks, this tricky process has only moved forward a couple of inches in a journey of many many miles.
And there are still big questions – how much are we willing to pay, how closely aligned do we want to be with the EU in the future?
How will the Conservative Party and the cabinet manage to get to a common place on their ambitions for Brexit when there are such internal divisions?
She said the two sides were within "touching distance" of a deal on other issues – particularly on citizens' rights.
"I am ambitious and positive for Britain's future and for these negotiations but I know we still have some way to go," she said.
French President Emmanuel Macron said: "I would say we are far from having reached the necessary financial commitments before we can open phase two.
"I can only underline how much work needs to be done."
The UK is due to leave the EU in March 2019, following last year's referendum result.
It had hoped to move onto phase two of negotiations – covering future trade arrangements – after this week's summit but EU leaders have officially concluded that not enough progress has been made on the issues of citizens' rights, the UK's financial obligation and the border in Northern Ireland.
The prime minister made a personal appeal to her 27 EU counterparts at a working dinner on Thursday night, telling them that "we must work together to get to an outcome that we can stand behind and defend to our people".
BBC Europe editor Katya Adler said all EU leaders knew Mrs May was in a politically difficult situation and did not want her to go home empty-handed, so had promised they would start talking about trade and transition deals among themselves, as early as Monday.
German Chancellor Angela Merkel said there were "encouraging" signs of progress in Brexit negotiations and the process was progressing "step by step".
And European Commission President Jean-Claude Juncker said he hoped it would be possible to reach a "fair deal" with Britain.
"Our working assumption is not the 'no-deal' scenario. I hate the 'no-deal' scenario. I don't know what that means," he said.