Coronavirus live Africa: latest Covid-19 news – Saturday 25 April
NCDC ✔ @NCDCgov · 17m Replying to @NCDCgov
"Health care workers across the country are a priority for us in the #COVID19Nigeria response. We've seen high index of suspicion in states that have managed #LassaFever cases.

We urge health care workers to observe standard care precautions ALWAYS"@Chikwe_I on #TheWeekendShow
"Our response to #COVID19Nigeria is defined by the data we collate and analyse real-time.

We don't share personal data of cases so as to avoid stigmatisation from the public which can negatively impact the response"

~ @Chikwe_I on #TheWeekendShow 31 11:17 AM – Apr 25, 2020Twitter Ads info and privacy 18 people are talking about this
This is concerning for Africans. They have seen a surge of 43% in cases and they are also reportedly very short on personal protective equipment. Sky Sports' report says lockdown will be almost impossible to enforce.
#Coronavirus has the potential to devastate #Africa but the number of infections hasn't rocketed – yet. Medics say their countries are unprepared and lockdowns will be almost impossible to enforce. @sparkomat investigates how Africa will cope. #covid19 #covid-19 40 11:00 AM – Apr 25, 2020Twitter Ads info and privacy
Rwandan officers accused of 'raping and killing' during lockdown
Rwandan officers have been accused of taking advantage of the lockdown measures to 'rape and kill' according to Human Rights Watch. Two people, at least, have been shot according to the group with women being raped for breaking lockdown orders say the BBC.
Locust-19 could have devastating effects on East Africa
At a time when the world is fighting the coronavirus pandemic, a number of countries in Africa are also battling locust swarms which are destroying crops.
"It appears that those who escape Covid-19 will soon face Locust-19," said Akinwumi Adesina, president of the African Development Bank and a former Nigerian agriculture minister. "The last thing Africa needs now is a hunger pandemic."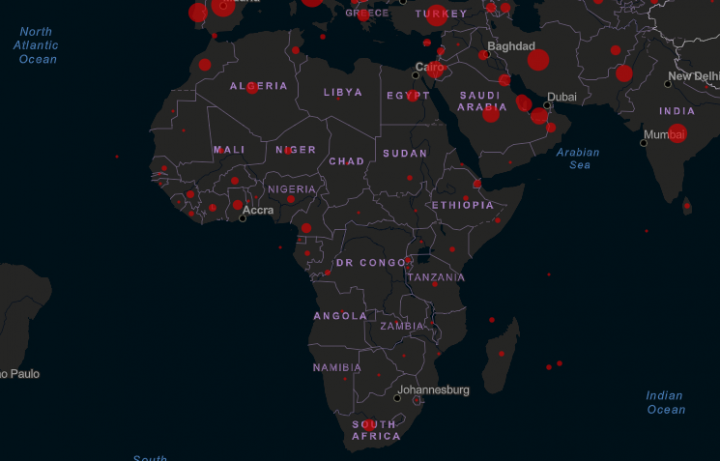 Africa Covid-19 update: 08:30 WAT Saturday 25 April (09:30 CEST)
According to the latest figures published by Johns Hopkins University, 2,809,979 cases have been detected worldwide, with 197,006 deaths and 789,069 people now recovered.
Nigeria: 1,095 cases / 32 deaths
South Africa: 4,220 cases / 79 deaths
Ghana: 1,279 cases / 10 deaths
Kenya: 336 cases / 14 deaths
African nations to get ventilators from Ma foundation and stress need for WHO help
African nations that lack ventilators to treat COVID-19 patients will receive some from the Jack Ma Foundation, an African Union official said on Thursday, as Nigeria stressed Africa's dependence on a properly-funded World Health Organization (WHO)to help it fight the pandemic.
Africa's 54 countries have so far reported fewer than 26,000 confirmed cases of the disease, just a fraction of the more than two million cases reported globally. But the WHO has warned that the continent could see as many as 10 million cases in three to six months, according to its tentative model.
With the pandemic driving up demand for protective equipment and medical supplies across the world, the African Union said it was working to set up its own joint procurement system.
Meanwhile, the Jack Ma Foundation has donated 300 ventilators, which will arrive in coming weeks. John Nkengasong, head of the Africa Centres for Disease Control and Prevention (CDC) said states without any ventilators would be prioritized as they are distributed.
South Africa ease lockdown measures
South Africa will allow the sale of cigarettes as they start to slowly ease lockdown measures.
As of Saturday morning, 25 April, In Africa, there have been 29,840 reported cases with 1,328 deaths.
The most affected countries are Algeria, who have seen 415 deaths, Egypt (294 deaths) and Morocco (158 deaths).
There are currently no other countries with double digits deaths
Welcome to our live blog covering coronavirus in Africa. It's Saturday 25 April and we will be bringing you the latest, breaking news from the continent with opinion, comment and statistics. Here is a look at the coronavirus cases as of Friday 24 April in Nigeria.
114 new cases of #COVID19 have been reported;

80 in Lagos
21 in Gombe
5 in FCT
2 in Zamfara
2 in Edo
1 in Ogun
1 in Oyo
1 in Kaduna
1 in Sokoto

As at 11:30 pm 24th April there are 1095 confirmed cases of #COVID19 reported in Nigeria.

Discharged: 208
Deaths: 32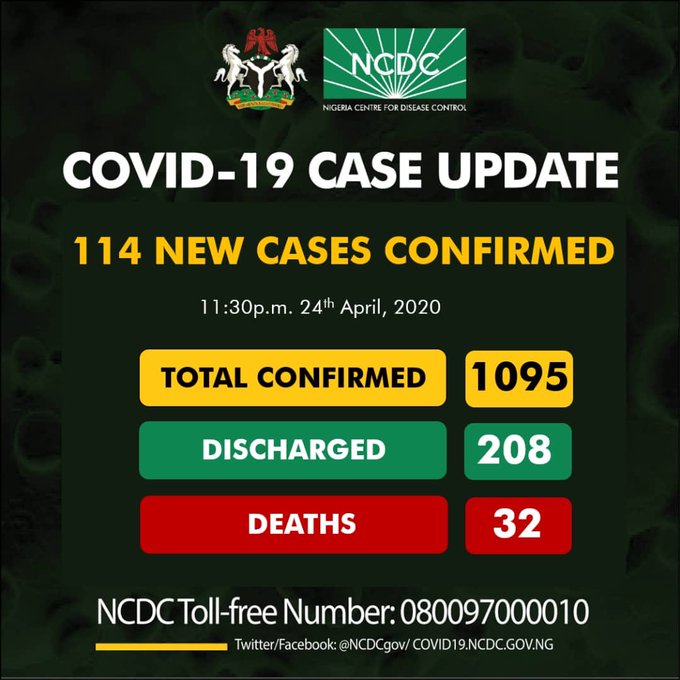 Source AS.