By AnneClaire Stapleton and Mohammed Tawfeeq, CNN
The Haitian government declared a state of emergency after a 7.2-magnitude earthquake struck the country Saturday, leaving at least 724 people dead and injuring another 2,800, according to Haiti's civil protection agency.The majority of deaths occurred in the south of the country, where 500 people are known to have died.
The quake destroyed 2,868 homes and damaged another 5,410, officials from the agency said. The destruction has also pushed hospitals to the brink and blocked roads that would carry vital supplies."When it comes to medical needs, this is our biggest urgency.
We have started to send medications and medical personnel to the facilities that are affected," Prime Minister Ariel Henry said. "For the people who need urgent special care, we have evacuated a certain number of them, and we will evacuate some more today and tomorrow."The state of emergency is in effect for the Western Department, Southern Department, Nippes and Grand'Anse.
The earthquake struck at 8:30 a.m. about 10 kilometers deep, with its epicenter about 12 kilometers (7.5 miles) northeast of Saint-Louis-du-Sud in the southwest part of the country. The location was about 60 miles west of the disastrous 7.0-magnitude earthquake in 2010 that killed an estimated 220,000 to 300,000 people.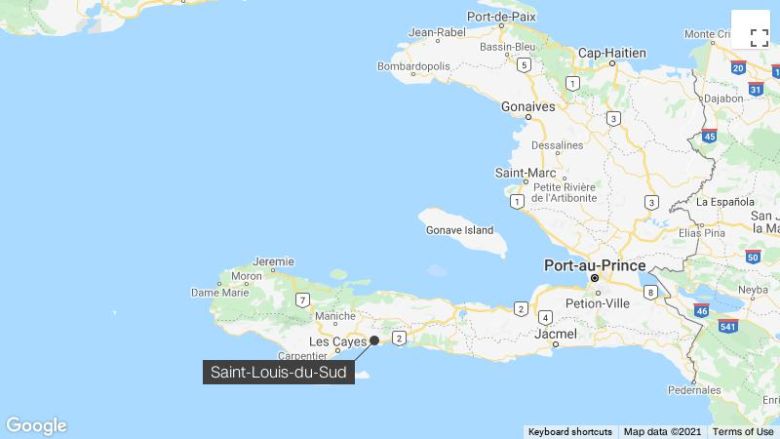 Saturday's quake was far less damaging than the one in 2010. A United Nations reconnaissance mission to the affected areas found "less significant damages than initially expected," the UN Office for the Coordination of Humanitarian Affairs said Sunday.
"The most urgent humanitarian needs are expected to be linked to the provision of medical assistance and water, sanitation and hygiene," the organization said.The earthquake is just the latest challenge for the struggling country, which is still dealing with fallout from the 2010 earthquake.
The assassination of President Jovenel Moise last month, which has not yet been solved or properly explained, has added further instability to a country in crisis. Fear stalks Haitians as their murdered president is buried and gangs terrorize the capital"We're concerned that this earthquake is just one more crisis on top of what the country is already facing — including the worsening political stalemate after the president's assassination, COVID and food insecurity," Jean-Wickens Merone, a spokesman with World Vision Haiti, said in a statement.
In addition, Haiti is likely to experience high winds and heavy rain from Tropical Storm Grace on Monday into Tuesday, CNN Meteorologist Haley Brink said. That rain could lead to flooding and mudslides, furthering complicating the recovery efforts. The entire coast of Haiti is under a tropical storm watch, meaning tropical storm conditions are possible within about 48 hours, according to the National Hurricane Center.