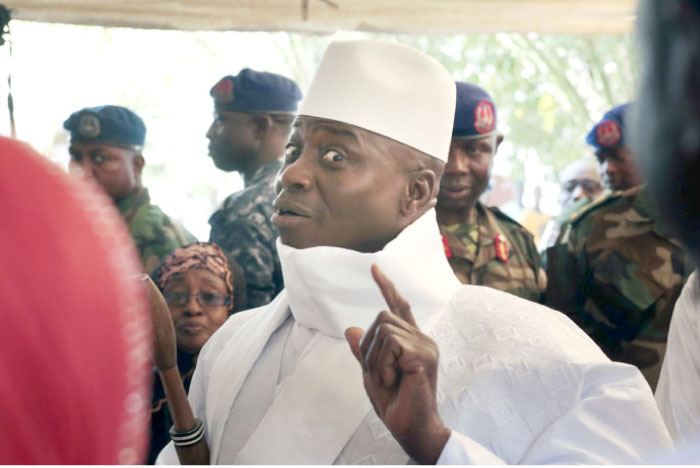 The government of Ghana says it is studying a request by Human Rights Watch (HRW) and Trial International for the extradition and trial of former president Yahya Jammeh over the killings of Ghanaian nationals in The Gambia in 2005.
"Government has been informed that Human Rights Watch, in collaboration with Trial International and led by an American lawyer, Reed Brody, has unearthed fresh evidence which they believe ties the former Gambian president, Yahya Jammeh, to the killing of 44 Ghanaians on or about July 22, 2005," a statement signed by the minister of Information, Dr. Mustapha Abdul-Hamid, stated.
Diplomatic complication
It said in view of the legal and international diplomatic implications of the request, the government had tasked the Ministry of Foreign Affairs and the Attorney-General's Department to study the request and explore the full extent of its legal and diplomatic implications and also advise the government on the way forward for the request.
"Government shall inform the Ghanaian people of its decision in respect of this matter as soon as it receives the reports of the Ministry of Foreign Affairs and the Attorney-General's Department," it said.
The statement assured Ghanaians that the government remained committed to protecting the interest of every Ghanaian.
"The government, therefore, wishes to call on the families of those who lost their lives and the Ghanaian population to exercise restraint as it seeks good counsel on this matter," it added.
Jammeh's complicity
At the launch of the campaign on May 16, 2018, Martin Kyere, the sole known Ghanaian survivor, the families of the disappeared, the family of Saul N'dow, another Ghanaian killed under Jammeh, as well as a number of Ghanaian human rights organisations, called on the Ghanaian government to investigate the new evidence and potentially seek Jammeh's extradition and prosecution in Ghana.
The leading organisations are the Centre for Democratic Development (CDD), Perfector of Sentiments Foundation (POS), the Commonwealth Human Rights Initiative (CHRI), the Human Rights Advocacy Centre (HRAC), the Media Foundation for West Africa (MFWA), Amnesty International and the Africa Centre for International Law and Accountability (ACILA).
Author: Momodou Jawo
Source: The Point newspaper