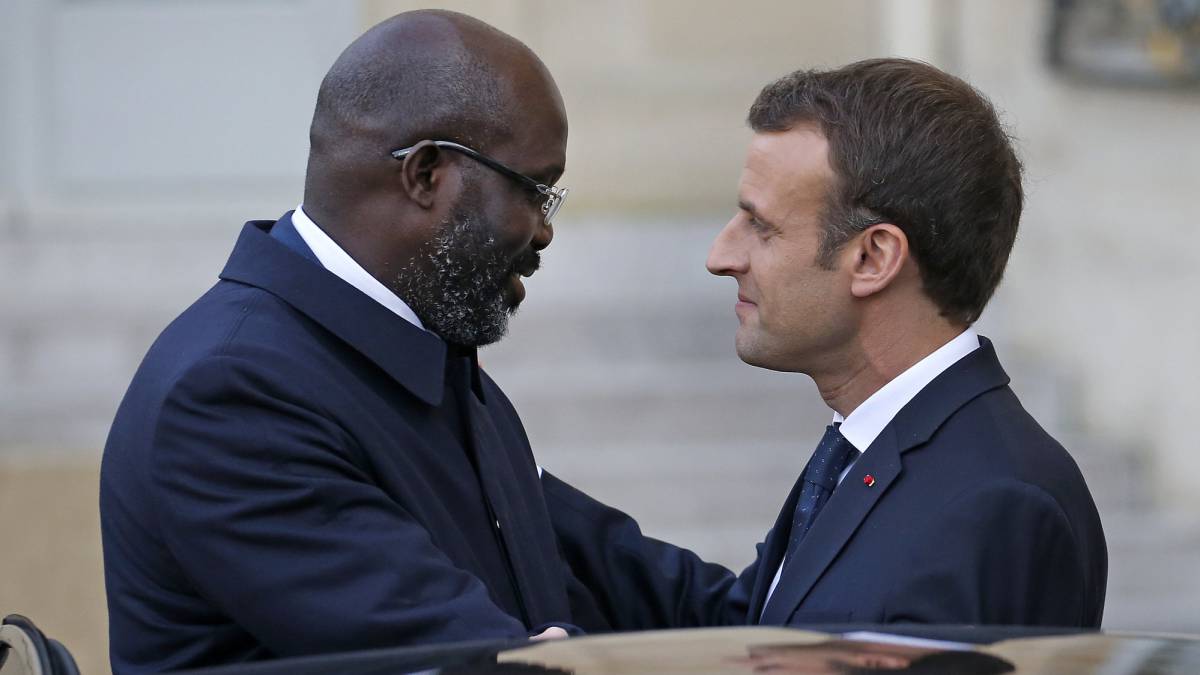 President Weah's first visit off the African continent was to his French counterpart, Emmanuel Macron, breaking an age-old tradition of first preference to the United States by a new Liberian president.
Nigeria's Buhari Meet Trump today in Washington, D.C.
Since the popular election of President George Weah, it has been the hope of many Liberians that he would have followed the tradition of the country's previous leaders to place themselves in good stead with the country's traditional friend, the United States of America. But President Weah broke the tradition and instead visited France upon his elections and met with President Emmanuel Macron.
Then it was said that he made such a move because when he was a struggling footballer, it was France that welcomed him and made him what he would eventually turn out to become, President of Liberia. Though the United States, through its Ambassador accredited to Monrovia has since pledged to work with the current government, it has been the wish of many Liberians that President Weah would have since traveled to the United States to meet US President Donald Trump and other officials including members of congress.
"Without Europe George Manneh Weah would not be standing here delivering this inaugural address as the 24th President of the Republic of Liberia. It was my success in European football that enabled me to give back to my beloved country. Europe will always have a special place in my heart, and, as President, I intend to strengthen my relationship with the European community for the benefit of all Liberians."
Earlier in the same speech, he expressed gratitude to Europe for assisting Liberia meet its post-war recovery.
"To the EUROPEAN UNION, I say thanks to you for your strong partnership with Liberia. European aid has provided critical support for Liberia's recovery from war, and this continuous support will be important as we forge a new path of transformation.
The United States of America and Liberia have a longstanding historical relationship. At least eight (8) of its former presidents were born in the United States of America. Its capital, Monrovia was named after U.S. President James Monroe and so are many of its cities or towns which are named after places in the United States. Moreover the United States has been Liberia's largest source of donor support over the years. It can be recalled that relations between Liberia and the U.S became strained in the wake of the 1980 military coup that toppled the civilian government of President Tolbert and the public executions that followed.
The then ruling Peoples Redemption Council was quick to dispatch a good-will delegation to the United States to repair the sour relationship. Former Liberian President Ellen Johnson Sirleaf was named by the Junta as a member of that delegation. Fast forward to 2018, since his election, President Weah has made a number of official foreign visits to countries including France, where he made his first official visit, followed by visits to Ghana, Morocco and Nigeria but, so far, the United States remains off the lists of countries the Liberian President is expected to visit in the next few months.
This development, according to diplomats in Monrovia, is unusual and is leading to wild speculations that President Weah may have some unresolved issues with U.S. authorities which may be reasons belying his tilt towards France rather than towards the United States. There are speculations however, that President Weah's seeming reluctance to visit the United States may be attributed in part to the child support case involving one Ms Meapeh Gono, the mother of the child allegedly fathered by President Weah, and in the other part to that of the criminal case involving a James Bestman currently serving a jail sentence on drug trafficking and money laundering charges.
Bestman was arrested at his Maryland home in a sting operation mounted by Federal authorities following extensive surveillance of his movement and activities. He was charged for drug trafficking and money laundering. It was reported at the time by the FrontPage Africa newspaper that President Weah who was at the time visiting Bestman was reportedly questioned by FBI agents but was subsequently released. But presidential candidate, at the time, George Weah denied any involvement in drug trafficking and money laundering.
He also denied that he had been arrested by the FBI at Bestman's Maryland home. "What happened there was I was on my way to Minnesota to the (CDC U.S. members') convention, and I decided to pass to James (because) he should have been one of those who were trying to watch (attend) the convention. When I pulled into the driveway, Mr. James came down the stairs and I saw two officers that served him a warrant that he needed to come with them," And then, I asked the guy (officer). I said what happened? He said he didn't know. All he knows is that it is a federal case and he has a warrant for James. And then, we laughed about it, and I told him that I must have come at the wrong time. There will be no way in this America, this law abiding country, that it will arrest somebody for drug business and let them go. Is there any dispensation for me to be caught in a drug raid and they will let me go like that?"
On the child support issue, it can be recalled that Presidential spokesperson, Sam Mannah, at the time reacting to a May 11 2016, Daily Observer story that a court in New York had issued an arrest warrant for Weah in the child support case said "This is a calculated propaganda trying to diminish our political momentum. "As a father to many children, many of whom are not his biological children, Ambassador Weah enjoys his role as a parent and will do nothing to deny a child of the care and comfort needed from his or her parents."
More recently a lawsuit filed by Reverend Torli Krua against former President Ellen Johnson Sirleaf, Thomas Woewiyu and President George Weah has further complicated the case and such developments, until sorted out through backdoor diplomatic channels could prove to be the chief stumbling block to any contemplated official visit to the United States.
And so, while President Weah is making trips, and perhaps being not so keenly aware of the important role the relationship with the United States could afford him, other countries are taking the lead. Nigerian President Muhammadu Buhari is to meet President Donald Trump in Washington on, today, Monday, the first African leader to be received by Trump's White House administration, and according to an Associated Press report, all eyes will be on Trump after he earlier called African nations "shithole" countries, a damaging remark he has since denied.
Trump's relationship with the continent suffered a further setback in March when former secretary of state Rex Tillerson was fired while in Nigeria on his first trip to the continent. As a result, the visit revealed little about Trump's Africa policy. Buhari's visit comes after Trump met German Chancellor Angela Merkel on Friday and French President Emmanuel Macron last week to discuss the contentious Iran nuclear deal and biting trade sanctions.
According to a White House statement, the talks will focus on fighting terrorism and insecurity, economic growth and democratic development in Nigeria, set to hold presidential polls in February next year. "I think both sides have a clear agenda in this meeting and its security and economic issues. They both have something to gain," J. Peter Pham, director of the Africa Center at the Washington-based Atlantic Council, told AFP. "On President Trump's side, it's definitely putting that controversy behind him," Pham said. "On President Buhari's side, it's having the prominence of being the first African leader received at the White House in this administration."
In spite of Trump's remarks, Nigeria's relationship with the United States has improved since he came into office, according to Lauren Blanchard, African affairs specialist with the Congressional Research Service. "(The visit) is intended to signal that the United States continues to see Nigeria as one of its most important partners on the continent," Blanchard said. "Cooperation has improved over the course of President Buhari's tenure, but not as fast as both sides would like," she added.
Buhari, who like Trump has a tendency to make gaffes, had lambasted former President Barack Obama shortly after coming into the office for refusing to sell weapons to Nigeria to fight Boko Haram. "Unwittingly, and I dare say unintentionally, the application of the Leahy Law Amendment by the United States government has aided and abetted the Boko Haram terrorists," Buhari said during a visit to Washington. Under the legislation, the US is prevented from offering weapons or training to countries where there is credible information of human rights abuses by authorities.
In contrast, Trump's administration has gone ahead with the reported US$496 million sale of up to a dozen Super Tucano aircraft, a plane with surveillance and attack capabilities, set to be delivered in 2020. The deal has recently come under scrutiny in Nigeria, a country with endemic corruption, where lawmakers are accusing the president of illegally withdrawing funds to purchase the planes. While no major trade announcements are expected, Trump and Buhari will also be talking about ways to deepen economic cooperation.
On the Liberian front
On the Liberian front, US officials may be watching events as they develop in the country to be convinced that the choice made by majority Liberians is the right one. But many Liberians are convinced that Liberia's future and the government's pro-poor agenda could move faster once the United States' leaders understand the direction the country is going.
Since he came to power, President Weah has traveled to several countries, including Senegal, Morocco, France, Ghana, Nigeria, Congo, and Ethiopia, but he should remember that the United States is the country's largest contributor of funds and resources, that has survived the country for more than a century. President Weah, many Liberians say, cannot overlook the special relationship that has existed between the United States and Liberia and therefore,while globe-trotting and shadow-boxing around, he must set the agenda for his visit to the United States.
The Executive Mansion has remained silent on why President Weah is yet to visit with US officials, but many Liberians told the Daily Observer that his visit to meet President Trump to seek economic and other cooperation and assistance cannot be oversized in the wake of his policy that is gaining momentum, but needs hard cash to implement.
Culled from Dailey Observer Liberia.