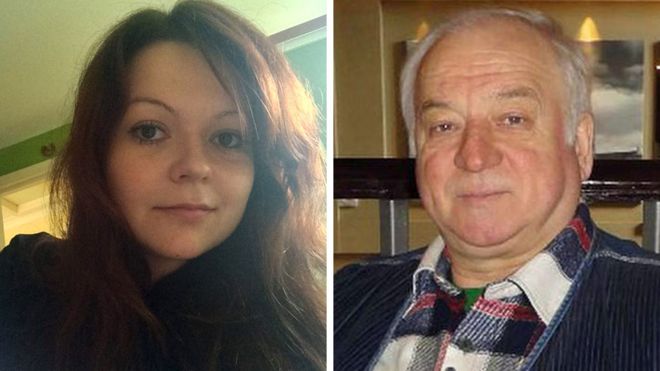 Russian former spy Sergei Skripal is no longer in a critical condition after being poisoned by a nerve agent, doctors have said.
Salisbury District Hospital said Mr Skripal is responding well to treatment and "improving rapidly".
Mr Skripal, 66, and his daughter Yulia, 33, have been in hospital for more than a month after being found unconscious on a bench in Salisbury.
They had been poisoned with a toxic nerve agent called Novichok.
Ms Skripal is conscious and talking in hospital.
The UK government claims Russia is behind the attack but Moscow has denied all involvement, calling the accusations "horrific and unsubstantiated".
Russia says UK is 'playing with fire'
Russian spy: What we know so far
Yulia Skripal 'getting stronger daily'
Sergei Skripal: Who is the former Russian colonel?
Dr Christine Blanshard, medical director at Salisbury District Hospital said: "Last Thursday, I informed you that Yulia Skripal's condition had improved to stable.
"As Yulia herself says, her strength is growing daily and she can look forward to the day when she is well enough to leave the hospital.
"Any speculation on when that date will be is just that – speculation.
"In the meantime, Yulia has asked for privacy while she continues to get better – something I'd like to urge the media to respect."
Dr Blanshard added: "I also want to update you on the condition of her father, Sergei Skripal. He is responding well to treatment, improving rapidly and is no longer in a critical condition."
Following the update on Mr Skripal's condition, the Russian Embassy tweeted: "Good news!"
Former double agent Mr Skripal, who was jailed by Russia for spying for Britain's intelligence service but released as part of a spy swap between the US and Russia in 2010, was being visited by his daughter Yulia when the attack happened on 4 March.
The pair became ill in the centre of Salisbury after visiting The Mill pub and Zizzi restaurant.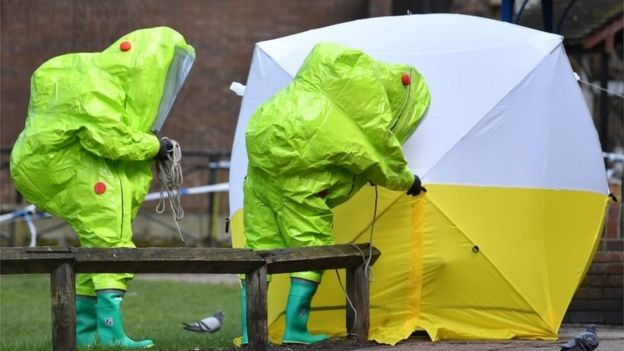 Image caption Emergency service workers in biohazard suits fix a tent over the bench where pair were found
The incident sparked an escalating diplomatic crisis between Russia and the West, with more than 20 countries expelling Russian envoys in solidarity with the UK.
On Thursday, Russia's ambassador to the UN, Vasily Nebenzia, told the UN Security Council that Britain was "playing with fire" and had invented a "fake story".
Mr Nebenzia said Britain's main goal had been "to discredit and even delegitimise" Russia and accused the government of waging a "propaganda war".
'Respect my privacy'
In a statement released to police on Thursday, Ms Skripal said she was grateful for the many messages of goodwill she had received and the people of Salisbury who came to her aid.
She said: "I am sure you appreciate that the entire episode is somewhat disorientating, and I hope that you'll respect my privacy and that of my family during the period of my convalescence."
On the same day, Russian TV aired a recording of an alleged phone conversation between Ms Skripal and her cousin.
Doubts were raised over the authenticity of the recording but her cousin, Viktoria, has told Newsnight she is 100% certain it was Yulia.
Britain's UN ambassador, Karen Pierce, said Russia's request for consular access to Ms Skripal has been passed on.