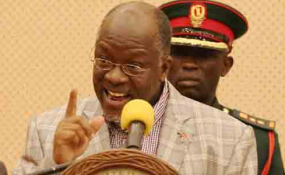 By Louis Kolumbia
Dar es Salaam — President John Magufuli has expressed his displeasure with delay in clearance of at the Port of Dar es Salaam.
This prompted the no-nonsense President to order the ministry of Health, Community Development, Gender, the Elderly and Children to ensure that the clearance nuisance comes to an end.
Speaking during the launch of 181 Medical Stores Department (MSD) vehicles worth Sh20.75 billion on Monday, March 26, the head of state threatened to sack top executives of the ministry if the delays prevail.
"The Tanzania Food and Drugs Authority (TFDA) belongs to the same ministry, therefore this issue is in the ministry's capacity. Next time I receive complaints about the same problem. I will fire both the minister and the permanent secretary," he said.
"I am not intimidating anybody, but I have been forced to speak this way because someone who is causing the clearance delay of the government drugs is seemingly more powerful than you."
According to him, those restricting or delaying government clearance of government drugs at the port have been clearing consignments of drugs owned by private firms and individuals at a fast pace.