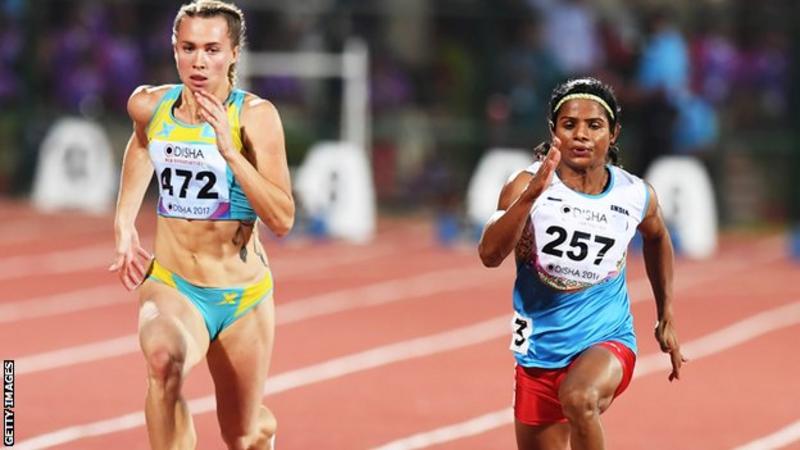 The new rules for female athletes with naturally high testosterone levels are "wrong", says sprinter Dutee Chand.
It was announced on Thursday that some athletes will have to take medication to race in track events from 400m up to the mile from November onwards.
Chand, who successfully challenged a similar ruling in 2015, said she felt for those such as South Africa's Caster Semenya who are likely to be impacted.
"I have offered Semenya my legal team if she needs," said Indian Chand, 22.
"I have emailed her offering my support and help."
'Take drugs or race men' – new rules for women with high testosterone levels
IAAF testosterone rules 'like apartheid'
Two-time Olympic 800m champion Semenya, who also competes in the 1500m, has previously been asked to undertake gender testing by athletics chiefs.
"I am happy and relieved after four years of uncertainty but I feel for athletes like Semenya," said 100m and 200m sprinter Chand, who will not be affected by the ruling.
The sport's governing body – the International Association of Athletics Federations – says the new measures will stop women with high testosterone levels gaining a competitive advantage.
It says research indicates that those women benefit most in the 400m, 400m hurdles, 800m, 1500m, one-mile races and combined events over the same distances.
The study, published in July 2017, also said hammer and pole vault events were affected.
Chand had a ban for failing a hormone test overturned in 2015, which led to the IAAF suspending its "hyperandrogenism" rules for two years.
"I lost crucial years of my career when I could not focus on my training and initially [in 2014] lost six months, which is a significant time in a sportsperson's life," Chand told AFP.
"A medal in the Olympics is what I dream of. Also I missed participating in Commonwealth Games, so will target the 2022 edition in Birmingham."