By Betty Amamukiror, Carol Ksujja
With increasing cases of COVID-19, the Government and private hospitals are incurring high costs in managing the virus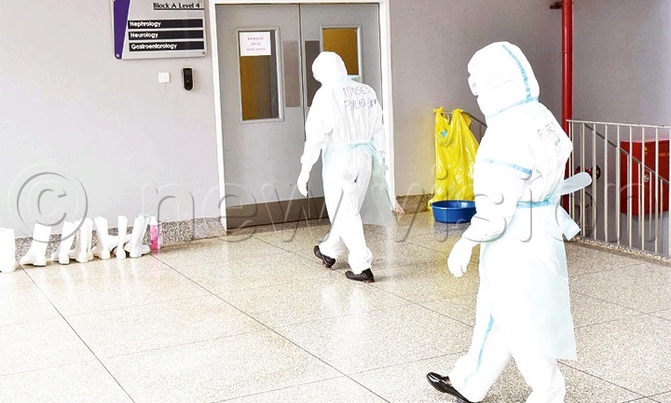 Medical workers walk towards the COVID-19 ward at Mulago Hospital.
With increasing cases of COVID-19, the Government and private hospitals are incurring high costs in managing the virus. The cost of treatment may lead to failure to cater for patients.
Medical experts have cautioned Ugandans to seriously take personal responsibility in the observance of COVID-19 preventive guidelines, warning that the cost of treatment is unsustainable.
The Government is paying huge sums of money for treatment of COVID-19 patients admitted in its health facilities.
Those receiving treatment in private facilities are struggling to foot the huge bills.
For instance, to treat a COVID-19 patient admitted in the intensive care unit (ICU) of a public health facility, the Government spends on average sh2m per day. This covers medication, including drugs for superimposing infections, building immunity and preventing clots, X-rays, oxygen, ventilation, blood tests, feeding, cleaning and disinfection, plus medical workers risk allowance.
Mulago Hospital deputy executive director Dr Rosemary Byanyima told New Vision yesterday that the duration of one's stay in the ICU is dependent on their body immunity. So far, the longest staying person in the unit at the hospital has spent about 22 days.
That means the Government spent about sh44m to treat one patient.
She hinted that this cost can be higher when all aspects of medical care are taken into consideration. Mulago, as of yesterday, had eight patients in the ICU.
In addition to the government facilities treating COVID-19 patients, the health ministry allowed some private facilities to offer treatment to those who are able to foot their own bills. These include Kampala International Hospital (IHK), Rubaga Hospital, Medipal Hospital, Victoria Medical Centre, Case Hospital and Kampala Medical Chambers.
A patient admitted in a private hospital ICU in need of ventilation pays an about sh2m daily. This is minus the drugs and supplements required in the treatment regimen.
At Rubaga Hospital, a patient needing oxygen will pay between sh5,000 and sh8,000 per hour. In 24 hours, this translates to between sh120,000 and sh192,000. A COVID-19 patient consumes about 15 litres of oxygen per hour.
Dr Andrew Ssekitoleko, the executive director of the hospital, said the cost of caring for a COVID-19 patient is complicated and expensive.
He noted that much as a patient pays huge amounts on treatment, the hospital also incurs huge costs in ensuring that the disease spread in the facility in contained. The hospital has to purchase personal protective gear (PPE) for their medical workers and buy sanitary requirements.
He said they spend about sh150,000 on each piece of PPE. For a medic taking care of a COVID-19 patient, each time he checks on the patient, he has to put on a new unused gear.
He explained that for a doctor working in the ICU, they are required to put on N95 masks which cost sh20,000 a piece, a head cap and gloves that cost sh5,000. Therefore, the total cost for single time dress code for a doctor is about sh200,000. These PPEs are single wear disposable material.
In light of the complication and high cost, medical experts have cautioned that the only way to manage COVID-19 is by adhering to the preventive measures such as handwashing, social distancing and wearing of face masks.
"If you need ICU, you should know that it is expensive. In a day you, will need more than sh1m, and because most health workers fear to risk their lives, we give them risk allowances," Ntege added.
Dr Charles Olaro, the director clinical services at the health ministry, said globally, no country can sustain a COVID-19 treatment.
He noted that the most effective way of handling the pandemic is through infection prevention and control and that is why the public is being advised to observe SOPs.
Culled from New Vision.