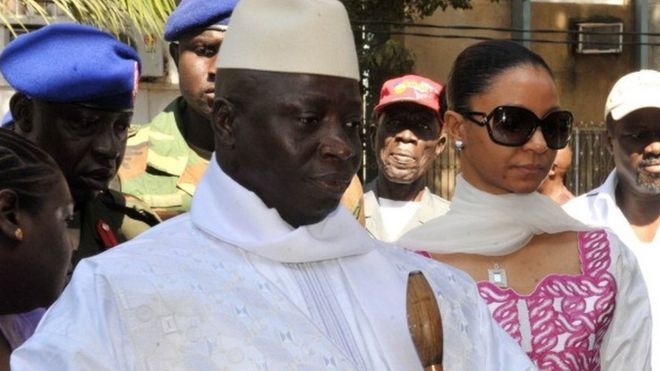 Tutu Alicante, a human rights lawyer and civil society activist in Equatorial Guinea, has said that the exiled Gambian dictator, Yahya Jammeh, lives in one of the most opulent, seven-star hotels in Equatorial Guinea.
Jammeh lives a luxurious life in Equatorial Guinea thanks to the president of the country, Teodoro Obiang Nguema Mbasogo, now the longest-serving African ruler, Mr Alicante said during a press conference at Kairaba Beach Hotel in Kololi on Saturday.
The press conference marked the end of a three-day strategic meeting between victims [of Yahya Jammeh] association and a coalition of civil society and international human rights bodies.
Mr Alicante said he was embarrassed that his government has become complicit in the crimes of Jammeh against Gambians.
"I am embarrassed by the complicity of my government when they offered sanctuary to Jammeh after the killings, rapes, false imprisonment and all these crimes against Gambians," the lawyer said, noting that many people in Equatorial Guinea do not even know that the former Gambian dictator even lives there.
Jammeh fled The Gambia in January 2017 for exile in Equatorial Guinea after losing presidential election to current President Adama Barrow. In 22 years of autocratic rule, Jammeh's government is widely accused of killings, disappearances, torture, intimidation, sexual violence and arbitrary arrests to suppress dissent and preserve its grip on power.
He is said to be living a luxurious lifestyle in one of the several palaces of the Equatorial Guinea dictator Teodoro Obiang Nguema Mbasogo.
The Gambia Centre for Victims of Human Rights Violations, the Institute for Human Rights and development in Africa, Article 19 West Africa, Coalition for Change Gambia, TANGO, EQ Justice (of Equatorial Guinea), TRIAL International (Switzerland), Human Rights Watch, Guernica 37 International Justice Chambers, Aids-Free World and La Fondation pour l'egalite des chances en Afrique have lend support to the Gambian victims' campaign seeking to bring Jammeh to justice for crimes committed under his leadership in mainland Africa's smallest nation.
The campaign said it will seek the extradition of Jammeh's trial in The Gambia but that this could take several years as political, security and institutional concerns must be addressed before Jammeh can get a fair trial that would help promote rule of law in The Gambia.
"We will do whatever it takes in the pursuit of justice, no matter how long it takes," Fatoumatta Sandeng, spokesperson of the campaign and daughter of Solo Sandeng whose murder in April 2016 galvanised opposition to the Jammeh government.
"All that matters is that Jammeh and his accomplices are held accountable for what they did to the Gambian people," Sandeng said.
Reed Brody, the Human Rights Watch lawyer instrumental in the campaign to bring to justice the former Chadian dictator Hissène Habré, is advising the campaign.
"As a people living for almost four decades under brutal dictatorship, we Equatorial Guineans feel compelled to try to help our Gambian brothers and sisters get the justice that we have been denied… The success of the Gambian victims will be the success of all Africans," Alicante added.
Author: Sanna Camara
Source: Picture: Yahya Jammeh and wife, Zineb Jammeh
Culled from The Point Newspaper.